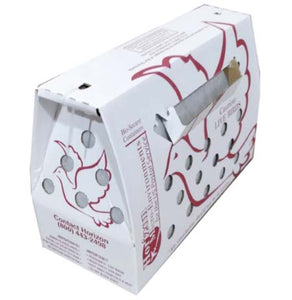 USPS Approved Bird Shipping Box
Federal regulation requires a minimum 6 ounce bird weight (170 grams) - so ship anything else at your own risk. If shipping hookbill parrots it is possible they will chew through the cardboard carrier so a small wire cage should be placed inside and cable tied in place so they don't have contact with the cardboard. We sell THIS CAGE for that easy purpose. 
This Vented Shipper is sized just under the new USPS`s dimensional weight threshold. NO dimensional weight charges! Newly designed ventilation window that maximizes air flow by pulling fresh air from the bottom holes and pushing out through the top. 18 in. x 8 in. x 12 in. tall - Will hold up to 6 lbs of birds.