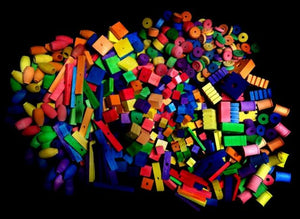 Toy Making Wood Filler Parts
Small to Medium sized wooden bird safe toy parts. 3/4" to 2" in size, these are perfect for small to medium beak sizes. 
They are dyed with an organic food dye made from spinach, broccoli, carrots, celery tops, parsley, endive, brussel sprouts, cooked peas, alfalfa, kale, turnip greens, beets, applesauce, yams, winter squash, pumpkin, apricots, citrus and bananas. 
Available in small lots or bulk lots. Block type, color and sizes are randomly selected, but are a mix of types available.