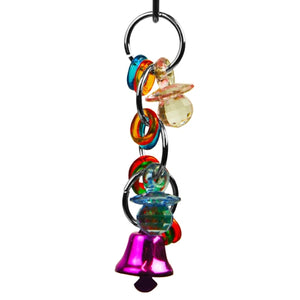 Tiny Tingle Toy
Fun and rugged little toy to spend hours of enjoyment while serving as a cute cage adornment. 
5 Inches Long x 1 Inches Wide
4 hoops approx 1 inch in diameter hang from a metal C-Link.
Each hoop decorated with colorful plastic circles, and pacifiers.
One colorful bells hangs from the bottom circle.