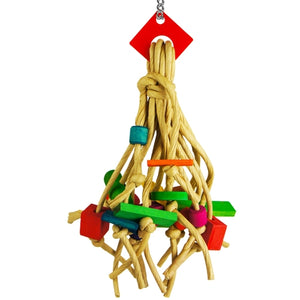 Super Fun Paper & Balsa Spiddy Toy - Medium
This is a FAVORITE toy among all small to medium birds, especially Cockatiels, Linnies and Budgies! Plenty of colorful wood to chew, but the multi-color layered paper "spiddy" arms are a delight that keep them coming back for HOURS! 
Medium Paper Spiddy
15 Inches Long x 8 Inches Wide
Approx. 16 strands of rolled paper through a plastic square.
Each strand decorated with colorful wood blocks for hours of chewing fun.
Comes with a plastic link and chain.
Non-Toxic