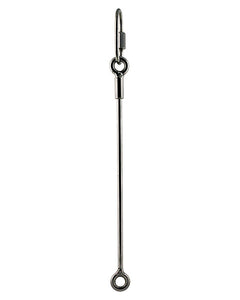 Stainless Steel Skewer
We all know how hard it can be to get some birds to eat their fresh veggies! This all stainless steel skewer turns veggies and fruits into foraging fun! 
It's great for serving fruits and vegetables for nutritious bird treats, filling with toy parts for chewing, shredding and playing, adding fun foraging activity to keep birds happy and fit.
It can be washed and refilled as often as needed. Easy to screw on and off.
Can be hung with the nut side up to avoid from being unscrewed by clever birds.
Comes with one 2.5mm stainless steel quick link for easy hanging. 
Size:
Small: 3.5mm wire, Inside hole diameter: 1/4", Overall Length: 7 1/4"