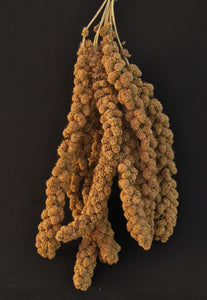 Midwest Spray Millet
This product is grown in the Midwest, USA. These sprays are the darker, tighter variety when compared to the lighter, larger and looser California style. Sold individually bagged in 1# bags, selecting only the best, intact sprays. If purchasing the 25# Manufacturer Sealed Box, that is not bagged.
Field dried, grown in the USA, and a bird favorite! 
Analysis
Crude Protein (min) ... 8.0%
Crude Fat (min) ... 2.0%
Crude Fiber (max) ... 20.0%
Moisture (max) ... 12.0%