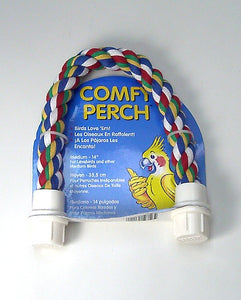 Cotton Rope Comfy Perch 14"
Soft cotton perch your bird will love to rest his feet on. Washes easily in the dishwasher. 
Flexible and easy to bend to make a great cage top perch, cage bendy perch, or mount straight for a traditional look. 
Our favorite when paired with other perches of different material and diameter to keep your birds feet exercised. A great choice for babies, elderly or handicapped birds that are missing toes or limbs too. 
 Shapes into a "one-of-a-kind" perch for your bird. Holds its shape without dangerous wires or stiffeners. Easy to use connectors fit onto any size of cage.