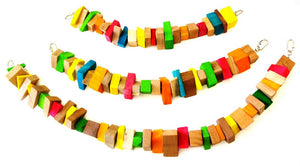 Rio Grande Hardwood Perch Chain
This beautiful hardwood colored chain is 3 feet long. 
Hang vertically, horizontally or diagonally. Blocks of 
brightly colored 
wood strung on chain with pear links on both ends for hanging. Great for those beaks that love to chew and those feet that love to swing! Recommended for medium birds, such as Small cockatoos, Galah, Eclectus, Severe Macaws and similarly sized beaks to larger beaks with less aggressive chewing tendencies. Also makes for a great bird room or aviary perch for birds of any size.