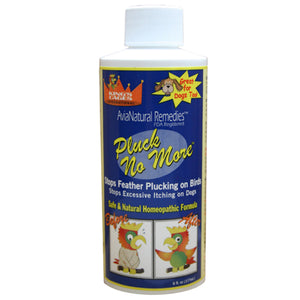 Pluck No More
Pluck No More is a save for most who try it!

Made In The USA
Stops Feather Plucking on your birds, holistically. 
Safe & Natural Homeopathic Formula
For relief of a wide range of feather plucking induced problems including: anxiety, fear, nervous,separation anxieties, not eating or neurotic behaviors. 
6 oz. bottle that really lasts! Two ways to offer, in water and direct spray. 
Does your bird feather pluck, feather pick, mutilate or have behavior problems? 
This great revolutionary new product for feather pluckers, feather pickers and birds with behavior problems has been on the market since January 2005.
Many happy clients have called to say their feather plucking cockatoos, African Greys, Macaws and even small birds have totally feathered up in a matter of 5 weeks since using this great natural product.
Feather plucking, feather picking & feather mutilation stops. New feathers stay.
Many birds that have been screaming all day have calmed down, biters and toe biters have stopped biting and un-tamable birds have now warmed to hand taming. 
Many breeders in the U.S. that have used this formula have noticed that their birds have calmed down and went to nest faster while on this formula.
Can also be used on dogs who are hair pullers, toe lickers and excessive barkers.  
From small dogs to large dogs
(dosage: 1 cap in 10 oz of water, still vigorously daily)
Directions for Use - use in water, spray or both!
FOR WATER USE- Use only distilled or bottled water, chlorine will kill the herbs in the formula. Add 1 capful of "Pluck No More" to 8 oz drinking water each day for birds such as African Greys, Amazons,Cockatoos, Eclectus and all size Macaws. For birds such as Cockatiels, Conures, Lovebirds, Linnies, Budgies, Quakers, and Canaries, use 1/2 capful to 4 oz drinking water changed daily.

FOR SPRAY USE- Also add 1 capful to 2 oz of distilled water in a spray bottle. Lightly spray the affected areas 3-4 times a day.  Before using Pluck No More, the bird must be bathed in a tub with Feather Shine Shampoo and then all shampoo must be thoroughly rinsed off the bird.
Feather Shine Shampoo comes with directions from a Veterinarian on how to exactly shampoo a bird.

Improvements can be seen usually with the first bottle. But usually is
takes about 4 to 5 bottles to make the bird break its feather plucking
habit completely.
In most cases you should begin to see positive results in 15-25 days.
Discontinue after 6 months if no positive results are seen, and consult your local veterinarian.
 HPUS Active Ingredients: Aconitum nap;
Apis mel; Arnica; Calendula; Chamomilla;
Cimicifuga; Clematis vit, flos; Cuprum met;
Hellebor nig; Histaminum hydrochloricum;
Hyoscyamus; Hypericum; Impatiens glan,
flos; Kali brom; Lilium; Mezereum;
Ornithogalum umbellatum, flos; Passiflora;
Phos; Prunus cera, flos; Sulphur; Tarentula
hisp; Veratrum alb.
Equal volumes of each ingredient in 10X, 30X, 100X,
and 1LM potencies.
Inactive Ingredients: Carya ovata bark
extract (hickory), citrus extract, Lonicera
japonica (honeysuckle),
polylysine (natural ferment), purified water,
steviol glycosides (stevia)