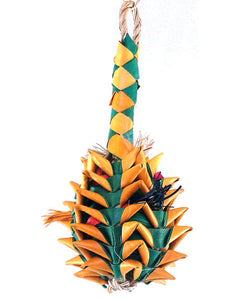 Pineapple Foraging Toy
This tough yet petite size make it perfect for Lovebirds, Parrotlets, Linnies, Budgies, Cockatiels, GCC and similar. 4"L and 3"W size make it long lasting without the intimidation. Even Bourkes enjoy picking at the crunchy points. 
The colorful and all natural Pineapple is a fun and engaging shredding toy. Hide little treats in the many spaces between the nips to entice your bird to forage and keep entertained for hours on end.
Colorful and unique Pineapple Shape
Each Colorful and unique Pineapple Shape is stuffed full for hours shredding
Each prong may be shredded
Colors vary, but all are delightful!