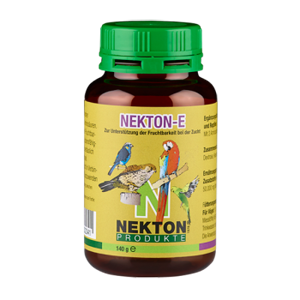 Nekton E Vitamins - expired
Nekton-E
 is based on latest scientific findings, is sophisticated and easy to use and soluble in cold water. Just add a pinch to the drinking water or feed daily to maintain and ensure good health and condition. 
Multi-vitamin supplement enriched with amino acids and trace elements for all caged birds

The #1 everyday bird supplement in the world

Well-balanced composition of 13 vitamins, 18 free amino acids in the natural L form, and minerals, will help prevent deficiency diseases and increase the nutritional value of the diet
Nekton-E containing the vital vitamin E promotes a bird's entire metabolism – protein, carbohydrates, fatty, mineral and water metabolic processes. It protects your bird against changes in bone structures, weakness of the heart muscles, kidney trouble and susceptibility to infectious diseases. Vitamin E is often described as the "fertility" vitamin and it certainly is the best aid to preparing a bird for the pressures of the breeding season. For years Nekton-E has been used by numerous breeders, who can look back proudly on the excellent breeding results among their birds.