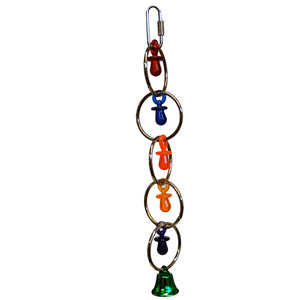 Metal Rings, Pacifier & Bells Toy
This rugged toy with fun color and textures is great for expending your birdies energy, while saving yours in cleaning and replacing! This long lasting toy deserves a spot in your birdie toy rotation bin.
Measurements: 10″ L x 2.5″ W
This 10″ toy features 5 non-toxic metal rings and plastic binkies with a bird safe bell for fun. Small birds will enjoy climbing through the rings and and ringing the bell! Includes mounting link (as do all of our toys).