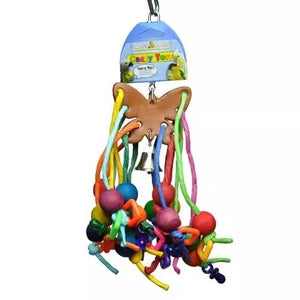 Leather Butterfly Paper Spiddy Busy Toy
This whimsical dangle toy has fantastic paper roll "legs" that offer your birds hours of fun. Rugged leather butterfly at the top holds up to even vigorous chewers. Wooden beads and plastic squares on the bottom of each strand makes this toy a favorite. 
Great size and textures for cockatiels, linnies, lovebirds, and any of the medium sized birds. Holds up well even to budgie beaks! 
12″ long, 6″ Wide
As always, all our toys are non-toxic.