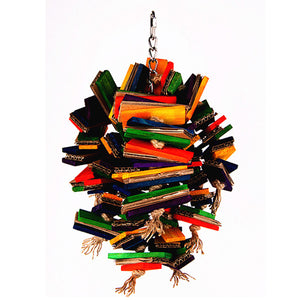 Bigger Beaks - Large Chew Explosion Toy
We have been asked to carry some items for larger birds, and since we all know that most "bird people" have more than one, and often different species.... we are happy to accomodate!
This toy explosion of thick balsa and cardboard strung onto sturdy sisal rope provides hours on end of entertainment! Great to keep pluckers busy, and works to trim beaks. 
This toy is best for medium to large birds. It is a fantastic value for how much chewing fun you get. The picture doesn't do it justice! 
10″ Long x 7″ Wide with chain and link connector.