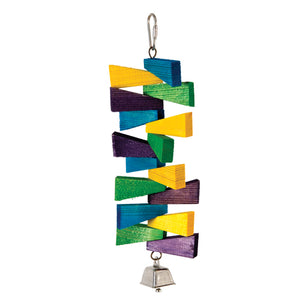 Large Balsa Zig Zag Toy
Creative design balsa wood chew toy! This unusual design Zig-Zag toy is brightly colored wood on bird safe chain with a C-Link. Length size means your baby can chew this from multiple perch points. Some species like to play from the ground, and this 11"long length offers access in the greater half of your birds home.
11″ Long 3 1/4″ Wide, wood is 3/8″ thick, .20 lbs
Great fun for your feathered friend!
Great for Caique, Green Cheek, Lovebird, English Budgie, Cockatiel, GCC, Crimson Bellied Conure, Senegal, Meyer's, and other medium sized birds with a beak that likes to grip onto something and go!
As always, all of our toys are made with all Non-Toxic materials.