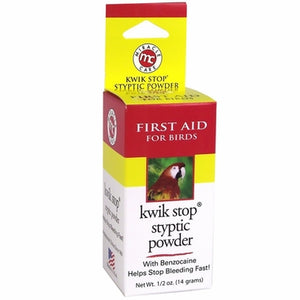 Kwik Stop Styptic Powder
.50 ounce
We have tried more than 6 styptic powders and hands down, this is the highest quality one on the market. 
When trimming nails, it is very easy to accidently nick a quick. This product is a powder that is easy to pack into the nail where they are bleeding, and is thick enough to hold between your fingers while you hold the nail to stop the bleeding. It also has a numbing element. It truly is the best product out there for this. 
Kwik Stop is one of the leading brands in terms of styptic powder and other styptic products and has been so for over 40 years. This particular formulation of Kwik Stop is intended for use on birds.