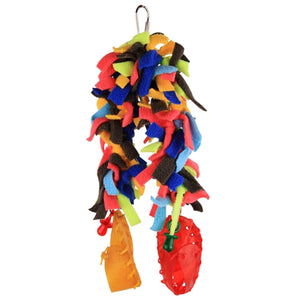 Fleece Snuggle with Rawhide Toy
Birds young and old like to sleep in cozy fleece areas for warmth and security. Birdie "tents" are unsafe and should not be used because birds can chew the material and get trapped between the floor and the fleece. This toy solves this by offering a plush and cozy area to snuggle into on the perch with complete safety. 
Acrylic pacifiers and rawhide shoes offer entertainment when not napping!
11.13″ Long x 4.25″ Wide