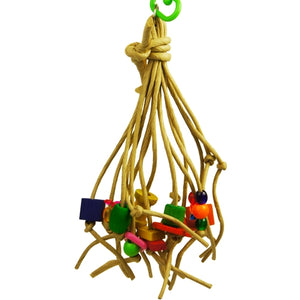 Fantastic Shred Falling Blocks Toy
This is one of our most popular toys for all the small/med birds. Cockatiels will spend half the day on this toy! Shreddable "strings" that reveal different colors at each layer revealed makes for long time interest! Different textures keep this toy a favorite for even the most active species! 
5 Inches Wide x 12 Inches Long
Approx. 16 strands of rolled paper with colorful plastic beads, shapes, pacifiers and wood pieces.
As with all our toys, non-toxic!