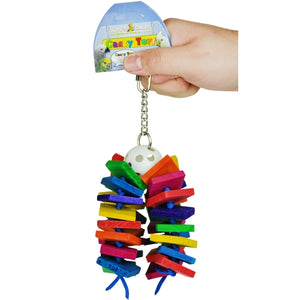 Four Strand Balsa Block Wiffle Toy
Tons of chewing pleasure for your bird with this colorful group of balsa blocks on 4 strands, with a cute Wiffle ball in the center. 
These fantastic 4 strands of balsa blocks are connected to a wiffle ball and a C-Link chain with hanging hook.
As always.... made with all Non-Toxic food dyes
From C-Link to bottom of leather 8″Long x 3″ Wide
Comes with link to hang.