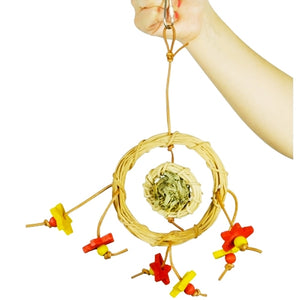 Munch n' Crunch Natural Wreath Nest Toy
Have a natural design theme with your birds habitat? This munch n'crunch wreath toy is a busy beaks toy without the bird safe dyes other toys are heavy in. This toy adds visual interest to your cage while maintaining the natural theme of your decor. 
Munch n' Crunch
Wicker wreath with wooden stars held on by leather straps, a tough chewable grass
Chew-approved.
17″High x 5″Wide