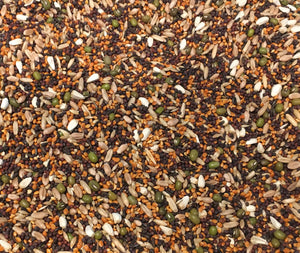 Soak and Sprout Seed Mixes
Soaking or sprouting seeds for your birds is a fantastic way to "wake up" the powerhouse of nutrition by activating their enzymes as they start the grow phase. This also increases their protein content.Sprouted seeds are a natural trigger in the wild for when birds would breed as it signals the wet, "fertile" time. Feed no more than 2-3 x a week for pet birds that you wish not to breed, and be sure not to offer more than 12 hours of daily light (ambient counts). 
Sprouting is easy and fun. Rinse the mix under cold water, put into your sprouter of choice (
we sell this one for its ease of cleaning- click HERE
), soak overnight then drain and rinse. Keep seeds moist, and rinse a couple of times a day until you see the tails emerge. Within 18 hours you should have this nutritious treat ready to feed! We like to mix some
dried egg food
into the mix for molting birds, or parents feeding young. Our sprout kits come with detailed instructions. 
Ingredients:
 Rape Seed, Canary grass Seed, Wheat Berries, Red Millet Seed, Safflower Seed, Oat Groats, Mung Beans, Thistle seed (Nyjer),
If you would like an instruction sheet on how to sprout, leave a note at checkout.